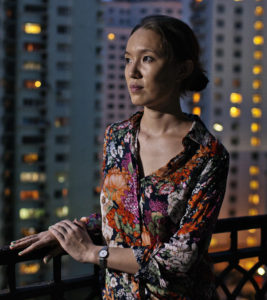 Xifan Yang (Chinese 杨希璠) was born in Hengyang, an industrial city in the Southern Chinese province of Hunan. At the age of four she moved to Freiburg im Breisburg in Germany, where she went to school. Later on in Munich, Yang studied psychology at the Ludwig-Maximilians-University and started writing, working as junior editor at jetzt.de, the youth magazine of Germany's biggest daily quality newspaper Süddeutsche Zeitung.
After an apprenticeship at the German School of Journalism in Munich, internships at the Asia office of the weekly Stern in Shanghai and at the youth magazine NEON in Munich, Yang moved to Shanghai in 2011 to work as a freelance China and Asia correspondent for German-language media. She speaks Chinese as her mother tongue and writes feature stories on globalization, digitalization, social and environmental issues. In 2015 she published her first book "Als die Karpfen fliegen lernten" (Hanser Berlin), a story of the last hundred years of recent Chinese history told through the eyes of her family members. In April 2015 Yang accompanied the former German Foreign Minister Frank-Walter Steinmeier on his state visit to Beijing and her home province Hunan. In May 2016 she also travelled to China with Steinmeier's successor, Foreign Minister Sigmar Gabriel. In 2016, Yang moved back to Munich, where she worked as an editor at SZ Magazin, the Friday supplement of Süddeutsche Zeitung until late 2017.
Awards & Honors
In 2015, her SZ Magazin feature "Deutschstunde" was nominated for the Theodor Wolff Award in the category "Best Reportage".
In 2012, her NIDO feature "Elterntage" was nominated for the German Reporter Award 2012 in the category "Best Reportage".
In 2012 Xifan Yang received the Gabriel Grüner Grant by the reportage agency Zeitenspiegel.
In 2012, the magazine Medium Magazin named her one of the "Top 30 journalists under 30".
References
Xifan Yang's articles have been published in
SZ Magazin
Süddeutsche Zeitung
DIE ZEIT
Stern
GEO
Neon
Nido
NZZ am Sonntag
Tagesspiegel
DUMMY
Wired
Mare
Harper's Bazaar
Financial Times Deutschland
SPIEGEL Online and others